(A Voluntary and Non-profit-oriented forum for documenting Namboothiri traditions in web)
Introduction: Namboothiri houses (Brahmaalayam, Mana, illam) were built invariably according to the canons of Vaasthusaasthram (Vaasthuvidya priciples, the science and art - architecture - of building in harmony with the eternally active, creative, and all pervasive 'Spirit' and 'Nature') and in conformity and proportion with the usually large compound or plot (Illapparambu). In the early days, they were all built in the form of Chathussaalas or Naalukettus (quadrangle or the ancient courtyards) - Kizhakkini (eastern part), Thekkini (south), Padinhaatti (west) and Vadukkini (north), as seperate structures. This can be seen even today in Kurumathur Illam. In later years, joining these four through Meladukkala, kizhakke Ara, Puraththaalam and Vadakke Ara, came to vogue. The Vadakkini floor was always considerably raised, whereas local custom determined whether none, any or all of the other three had raised floors or not. The Thekkini and/ or Padinhaatti may either be single storyed or two (or more) storyes high. Anyway all Brahmaalayams were invariably in the Naalukettu style.

The gateway entrance to the plot (Padippura) is built on the western boundary in line with the Thekkini veranda. The Padippura will have standing (or resting) space both inside and outside. This is done to let the passers - by know that the house is a Brahmaalayam, where food will be available. With the same purpose in mind, the kitchen well is provided with a drum shaped wooden pulley system with wooden balls (or dry fruit shells) inside which produce noise while drawing water.

The Paththaayappura (grain store-house), bathing tank, well, dining halls (Kettu) and all other functional parts have very definite relative locations, size, shape and other details, determined as per Vaastuvidya.

Click here for photographs of some Namboothiri illams
Site Plan of A Typical Illam
Kanippayyur Mana, Kunnamkulam, Trissur Dt. (Demolished sometime back)
1. 'Natasaala' & 'Poomukham' (Drawing Room) - Place to receive persons of all castes who have no 'Theendal'
2. 'Padinjattithara' (The western wing of quadrangular type of house) - Place to receive respected persons and serve them meals.
3. 'Deenamuri' (Sick Room) - Room for sick male members.
4. 'Vadukkini' (The northern part) - Place to do rituals like 'Oupaasanam', 'Sraadham', etc.
5. 'Meladukkala' - Day-to-day dinner hall for Namboothiris.
6. Room used by ladies at the time of menses.
7. 'Kalavara' (Store room) - Room to store Rice, Coconut Oil, Coconuts, etc.
8. 'Paathrakkalavara' (Vessel store room) - Room to store vessels which are not in daily use.
9. 'Puthanara' (New chamber) - Room to store pickles and keep luggage of Antharjanams.
10. 'Vadakke Akam' - Labour Room
11. 'Vadakke Kett' - Lunch hall for Namboothiris for noon meals.
12. 'Cheriya Meladukkala' or 'Thundanadukkala' - Dinner hall for Antharjanams.
13. 'Sreelaakam' - Worship Room
14. 'Morakam' - Kitchen store room to keep buttermilk, etc.
15. 'Adukkala' - Kitchen
16. 'Kizhakke Kett' ('Vadakketh') - Dinner hall for Antharjanams.
17. 'Kizhakke Kett' ('Thekketh') - Dinner hall for Namboothiris on special occassions.
18. 'Oottupura' - Place to prepare feast on special occasions.
19. 'Nadumittam' - Inner courtyard or quadrangle.
The black wall portions in the plan shows upstairs.
SCALE
All measurements are in Cubits ("Kols") & Angulas.
1 Cubit = 24 Angulas = 72 Centimetres

.
A Graphic Designer's imagination of the Kanippayyur Mana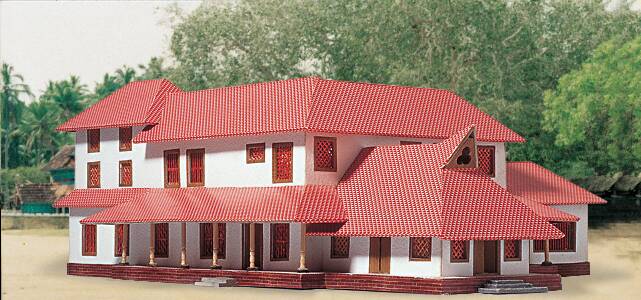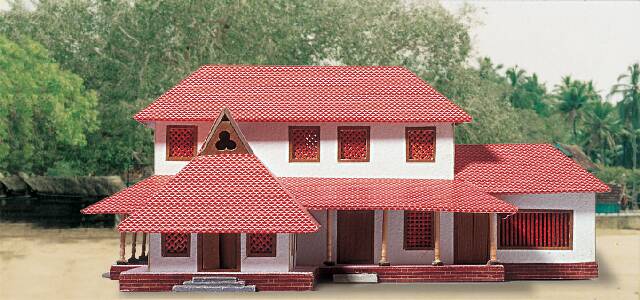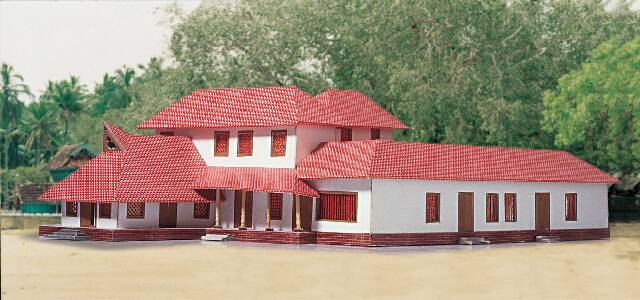 ---
| Article No:15.1 | Last update of this article:16th January 2002 |
Source: 1. 'Namboothirimaarude Poorvacharithram' (early history of Namboothiris) - Aadiyedathu Neelakandhan Bhattathiripad in "Prabandhangal", Yogakshema Upasabha, Manjeri (Panchangam Press, Kunnamkulam)
2. Kanippayyur Krishnan Nambudiripad - Personal correspondence.
---
Copyright © 2000 Namboothiri Websites Calicut. All rights reserved.